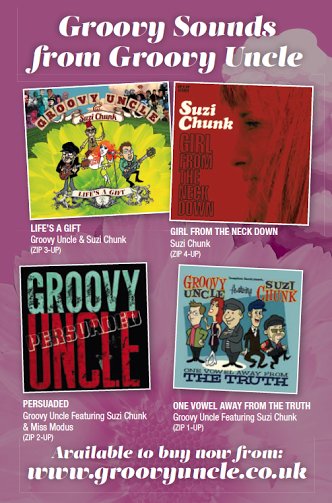 Welcome To The Groovy Uncle Website.
Groovy Uncle is an often changing band of musicians hand picked by songwriter Glenn Prangnell for various recording projects.

It began in 2010 with the release of the vinyl single "Monkey Trousers"/"Now Your Pain Is Over" on State Records.

A year later the debut GU album "Play Something We Know!" (State, vinyl) was released. In 2012, Glenn invited Cardiff­based funk­soul "singist" Suzi Chunk to record with him and the resulting single "Look Back and Laugh"/"Tripwire" (State,red vinyl) saw her debut as a solo recording artist.

The second LP release in the Groovy Uncle project was Suzi's album "Girl From The Neck Down" (State, VINYL and CD) in September the same year by which time work had already begun on the third album "One Vowel Away From The Truth" (Trouserphonic, CD) and this saw the light of day in September 2013.

On July 28th 2014 State Records are once again putting out another single, "Barefoot In The Car Park"/"Wet Weekend" on heavyweight vinyl. These two tracks are also included on the new album "Persuaded" (Trouserphonic, Vinyl, CD) to be released later in 2014 and it's at this point we welcome Scotland's Miss Modus!

In 2015 our 5th album, "Life's A Gift" was released as a CD and download and a revamped version of Suzi's album "Girl From The Neck Down­Remastered" is on sale from January 2016.