---
State Records are extremely aroused to announce the welcome return of Groovy Uncle and Suzi Chunk to their roster, and what better way to celebrate that fact than with a limited edition vinyl 7" that weighs a ton and packs a sonic punch!

Here's what Shindig! Magazine had to say about it: "the uptempo A-side [is] very groovy, giving the Daptone stable a run for their money in the nu-soul stakes…. 'Wet Weekend' offers crestfallen despair over a minor-key beat dripping in tremeloed elegance. Essential." 5 Stars

This is Part 7 of the by-now-renowned Sandgate Sound Acetate series (our motto: 'never mind the quality, feel the width'), pressed on heavyweight 70g vinyl in a limited run of 500 copies, in a hand-stamped paper sleeve. This edition also includes a hand-numbered lyric insert for added coolness.

A summer sensation!




**due to a pressing error, a number of discs have the labels on the wrong side. Please be aware of this when ordering)

UK £4.50 (plus £2.00 p&p) EU £4.50 ( plus £3.50 p&p) | ROW £4.50 (plus £4.50 p&p)



Orders from the UK £4.50 + £2.00 p&p





Orders from the EU £4.50 ( plus £3.50 p&p)





Orders from the ROW £4.50 (plus £4.50 p&p)




---
Album: "One Vowel Away From The Truth" (CD only) -Groovy Uncle feat. Suzi Chunk (Trouserphonic ZIP-1-UP)

Description: "One Vowel Away From The Truth" is the third album from Groovy Uncle and the second to feature Cardiff-based vocalist Suzi Chunk. It is the first to be released on our own label, Trouserphonic. 14 brand new songs written by Glenn Prangnell who shares lead vocal duties with Suzi. The glass mastered CD is presented in a 4 panel, full colour, sealed digi-pak. The first 20 customers will receive a set of four black on yellow badges.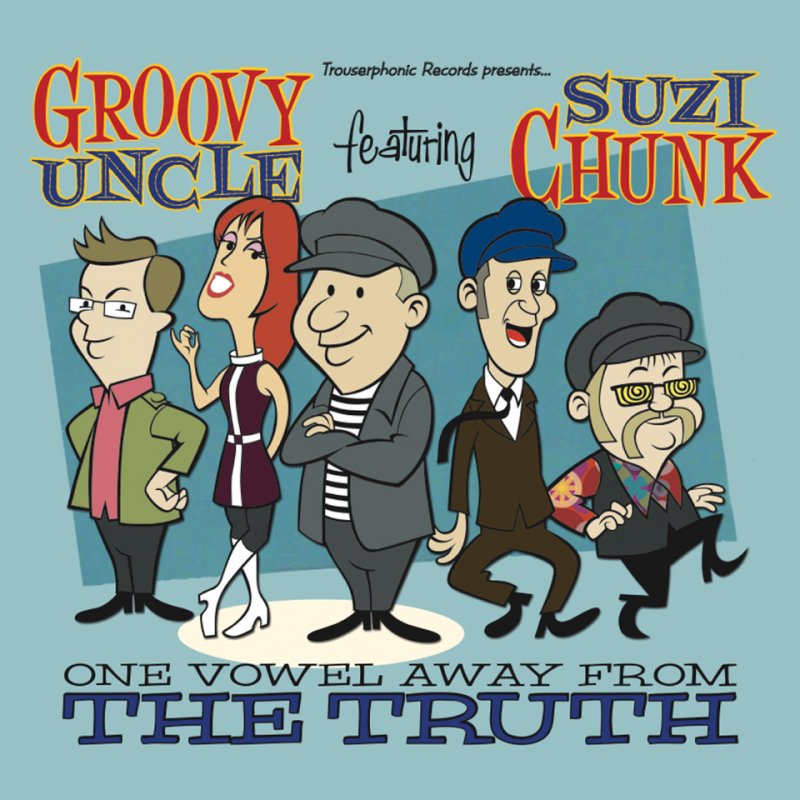 Price £10.00 plus shipping: UK = £1.00 EU= £3.00 Rest Of The World = £3.50



Orders from the UK £10.00 + £1.00 p&p

(Europe) £10.00 + £3.00 p&p

Orders from EUROPE

(Rest Of The World) £10.00 + £3.50 p&p

Orders from THE REST OF THE WORLD
---


Amazing RED VINYL 2-sider from the Cardiff-based firebrand that is Suzi Chunk, with musical muscle provided by none other than GROOVY UNCLE! Killer beat-soul inflected versions of 2 Kravin' "A"'s corkers from the pen of Medway legend, Glenn Prangnell, who is also featured on guitar alongside the equally legendary Mr Bruce Brand. Housed in a front laminated, flip back sleeve with design by Arthole Retrographics.



Orders from the UK £4.50 + £2.00 p&p

(Europe) £4.50+ £3.50 p&p

(Rest Of The World) £4.50 + £4.50 p&p
---


GROOVY UNCLE
Monkey Trousers b/w Now Your Pain Is Over
[2010, State Records, THS-003]

Brand new 7" vinyl monophonic gem from Groovy Uncle, featuring Glenn Prangnell [ex-Kravin As, Goodchilde etc] recorded exclusively for State Records! Offering 2 authentic beat punkers, with that classic Medway vibe, rich in melody and harmonies! Limited edition of 500 copies in full colour card sleeve.
Postage is £1.50 [UK], £2.50 [Europe] £4 [rest of world].
I usually post on a Saturday so please bear with me if you buy early or mid week.

Payment by PayPal ONLY please.



Orders from the UK

Orders from EUROPE

Orders from THE REST OF THE WORLD